You are not your fucking... is a series of articles dedicated to profiling a variety of equipment. Brought to you every Monday (hopefully), this series will discuss why it is a good piece of gear, why it fills your needs, why you should get it or any other reason it could be useful. It could be something obvious, or it could be something off the beaten path, but it will always be useful in some way or another. Today we will focus on the Yigit Crackows.

The Stats: The feet slot is something pretty difficult for BLM to deal with in general, and the Yigit Crackows are a great solution until you get the top-most gear available.

The Yigit Crackows had a pretty unique model when first introduced, based loosely on the Sha'ir and Nashira designs, but with it's own unique skin. Though I believe this design might have been recycled or at least only slightly tweaked for other pieces, they still stand out pretty well.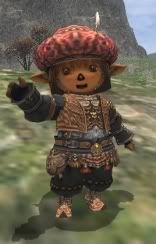 The first thing of note about the Yigit Crackows is the only feet slot equipment for BLM that has both Magic Attack Bonus and raw INT to directly increase magic damage. The Cobra Unit Crackows actually have more Magic Attack Bonus but on most mobs with standard gear the extra INT is going to provide more damage, at least that is what my standardized testing on the Magic Damage Calculator has shown. The in addition to the increased damage from the INT, you will also get some more accuracy for those INT based debuffs too.

The Get: The Yigit Crackows are the 20k Assault Points reward from Lebros Caverns and can be purchased from Famad in the Commissions Agency. They are Rare/Ex so there really isn't an alternative for getting these, and Lebros Caverns doesn't really have a good points run besides Apkallu Breeding which can get to be pretty easy after some practice, but even with all perfect 3 person runs it will still take over 2 weeks to get enough points. Take this into consideration though: Celestria (a player that deserves a ton of respect when it comes to gear choices) once said that if you don't have the Yigit Crackows for your BLM then you may as well just cut your feet off. The best thing about the Yigit Crackows is that even though they are not the absolute best you can get, they are close and they can be used for quite some time as the only thing that can really beat them for damage is a complete Morrigan's Robe set.