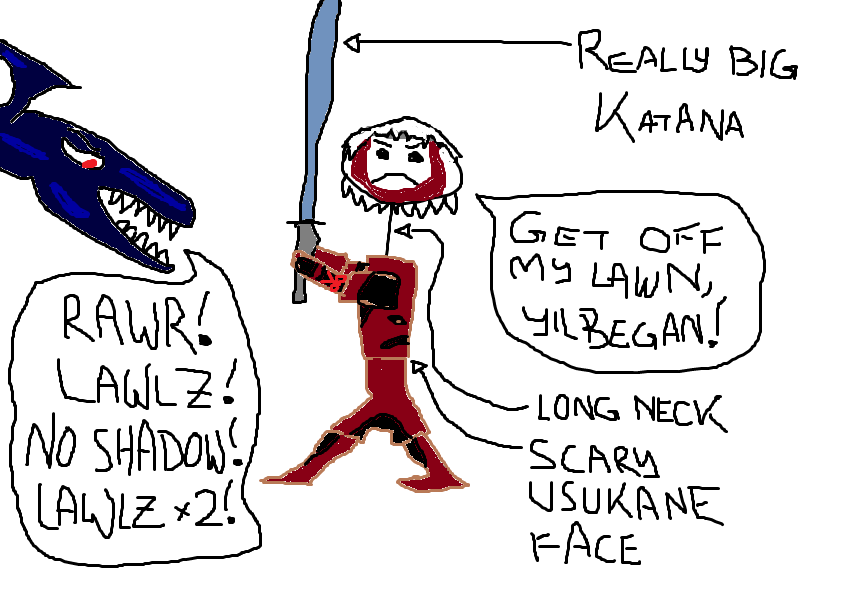 I am getting cranky. Cranky is a good place for me. I have been dealing with the two-headed beast of camping near irrelevant NM's and a horrible internet connection. I have lost at least two, if not more, Okyupete kills for my second Magian GKT because of my internet connection taking a dump all over itself. You might remember me mentioning how much I love the Magian system because you can do it yourself at your own pace, and it's relatively easy to get an amazing weapon. Yeah, well if you add in a crappy internet connection that all goes out the freaking window.

Ok, so it's not the Magian system's fault that my internet connection is worse that two tin cans and a piece of string, but I am cranky so logic doesn't matter! I will be less cranky once I have killed 6 more Lamprey Lords and then 8 more Chesma's and then collect 50 Carabosse's Gems... wait, what the fuck? Are you fucking with my mind? 50 Gems from a tier 2 Abyssea mob? Now, the kick in the balls that my internet connection has been giving me over the weekend suddenly feels like a gentle cupping compared the giant black dildo that SE has inserted into my rectum. I don't want to hear about how you can farm the pop items for Carabosse in an XP party, and I don't want to hear about the fact that there are a ton of far more difficult drops for other weapons. I just don't want to hear it, I just want this giant black dildo out of my rectum.

Speaking of annoying, I can't wait for people to finish leveling their jobs in Abyssea and realize that there is actual real gear in there. I know people that have spent 16 hours in Abyssea leveling and have somehow not leveled everything they have, merited everything they have, and flipped their XP like the score in an Atari 2600 game. Yeah? You don't know what an Atari 2600 is? Too young you say? Fuck you. Go to a fucking museum and check it out, you can find it right next to the Magna Carta, the Rosetta Stone, and the skeleton of an fucking Allosaurus.

Did I mention I am currently working on something like 5 different Magian weapons right now? I have killed every single moronic NM that SE has ever added to the game. Some of these NM's have to be a freaking joke. Okyupete? Ankabut? Where do they come up with these names? A three-year-old's first illiterate Crayola scrawl? Jolly Green? Killed it, and the fucking thing doesn't even have a last name, and it's not even a fucking giant. Hey, SE, you already have freaking green giants in the game, why don't you call one of them Jolly Green? You know the worst part? I am doing Great Katana and Bow, and they both perfectly overlap, so I have committed genocide against the peace loving Treants of Grauberg, not once, not even twice, but three time, and it's going to happen again because of that Plantoids under weather thing. I make Pol Pot look like Strawberry Shortcake. You don't know Pol Pot, you say? What? You don't know fucking Strawberry Shortcake, either? Get the fuck off my lawn!

And Yilbegan can get the fuck off my lawn too! Fucking shadow-less, but fucking cool looking dragon, that's like the anti-dragon. Tank it on it's rear feet? Only damage it when wings are up? What the fuck? It's like everything is backwards because of some little in-joke at SE headquarters. "Oh, we so funny!" Yeah, fuck you too, buddy! Oh, you dropped a Platinum Ore and a Platinum Ingot? How generous! Let me show my appreciation by jamming a fork in my ear. Oh wow, the fork in my ear does nothing to minimize the pain of the brutal dildo assault...

Internet connection problems make the Old Man Ring pretty cranky. I am sure it's because my roommate is simultaneously uploading and downloading every episode of Top Gear ever created, in every language known to man. My poor GB's and Wifi's don't stand a chance against a full frontal assault from Jeremy Clarkson. You don't know Jeremy Clarkson? Great, you just gave me an aneurysm.