In the second installment of my gear review we will be going over the dagger that almost every THF drools all over, even in their dreams, the X's Knife.

The Stats: Looking at this is almost like looking at the Hagun, but the base stats are even a little better in this case.

The X's Knife is the very simple bone-style knife design, and looks no different in game than a Behemoth or Bone Knife. Again, in following with SE's general laziness when it comes to recycling weapon models this is rather generic, even more so than most other weapons.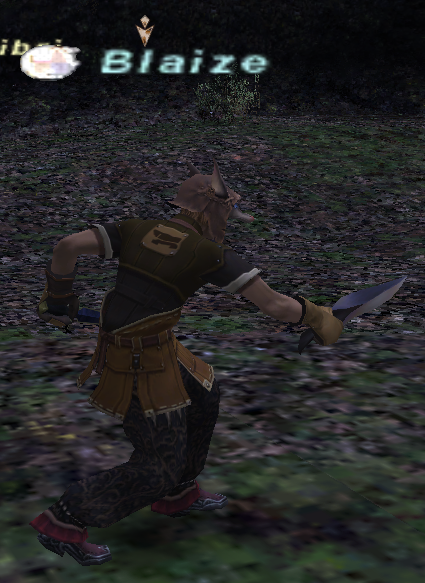 In general, this is a bit higher on delay than most daggers, but it does have a pretty high weapon damage so this is probably going to be a main hand dagger for non-relic users. The damage does put it in the upper echelon of daggers too, but that really isn't the main benefit of this dagger. That is in the simple additional bonus of "Increases critical hit damage". This effect not only works on regular critical hits, but also on forced critical hits like from Sneak Attack and Trick Attack which means that for a THF this bonus will apply to almost every WS they do and to Evisceration also. As you can see, this damage will apply pretty often for just about any THF, and since it can be used so often we should look at what exactly this bonus does.

Now, for a long time this dagger was known about but not really tested, but after the testing the realization about how good and how important this dagger really is started to spread. There is still a bit of speculation on what effect the X's Knife has on critical hits, but the generally accepted idea is that it raises the pDIF (that is basically the damage range of any damage on by a weapon) for critical hits by 0.3. That is a pretty complicated way to say that you are looking at about a 10% increase in damage on critical hits across the board. It is going to be higher for things that are lower level and have less defense and lower for things that are higher level and have more defense, but that is true of anything that effects pDIF. The effect on pDIF can be seen here:
There are some people that believe that it is a straight 10% increase in critical hit damage, but I kind of doubt this because when it comes to weapon damage SE generally likes to do the changes within the damage formula, unlike magic. This bonus applies to both the main hand and the off hand, so you don't necessarily have to main hand this dagger, but there are very few situations where you would not want to main hand this dagger, especially because you can still use a Blau Dolch in the off-hand and still maintain it's bonuses too, and it is wicked quick which is what you are generally looking for in an off-hand dagger. There are some higher damage non-relic daggers that could justify off-handing the X's Knife but using those would mean giving up the much better Blau Dolch.

The Get: Now, this one isn't that easy to get, and it is Rare/Ex so you can't even try to save up and buy one. The X's Knife only drops from the quest battlefield in Boneyard Gully called Requiem of Sin which requires another Boneyard Gully quest battlefield called Tango with a Tracker, all of which requires you to complete CoP and talk to Despachiaire in Tavnazian Safehold for a key item to start all of the quests. Sadly, it can only be done once a week and it has about a 10% drop rate, so you will be doing this quests for a while. There are a bunch of strategies available, but if you get a couple of friends together and pick a time weekly, you should be able to get this after a while.