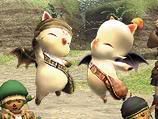 As you might have heard the Mog Bonanza is Imminent but what would you do if you won a first place prize? Would you go for the Gil? Or would you go for the items? Unlike last year there is no way to know how much Gil you will win before hand, and I doubt it is going to be as much as it was last year. 100 million was a whole lot of Gil, and I can't see this Bonanza handing back that much Gil again, but you never know. The items are a mixed bag just like they were last year, with some impressive items from different HNM from around Vana'diel, and some are definitely better than others.

So what would you take? Would you even level a new job to make use of some of the more impressive items? Would you level SAM just to be able to use Futsuno Mitama? Would you level DRK just to be able to zerg your heart out if you picked the Kraken Club? Would you take the Gil even if you didn't know how much it was going to be?

Let us know what you would get by leaving a comment!