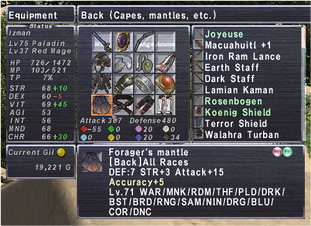 Morning in Vana'diel is your daily dose of FFXI and all things Vana'diel. Give us your thoughts on the interesting topics of the day! Is the gamble worth the bet?

Risk vs. Reward has always been something for crafters to me. Most of the things in this game are time sinks, but eventually if you do something long enough you will get the items that you really want. If you camp something long enough you will get the claim. If you kill something often enough you will get the drop. I am fine with that and I accept it as part of the time-sink in the game. I am undecided if I like the new FoV system.

Now, I don't have a problem with it upsetting the balance of the gear universe. People that can't except that there gear is inevitably going to be obsoleted are playing the wrong game. Hell, they are playing the wrong genre of games. I am more concerned with the risk in trading in high-dollar items just to get a crappy or even detrimental Augment. Now, you could be Izman and get the item you see above, or you could be me and get -1 AGI, -1 INT and +2 MND on your Warwolf Belt.

As I have written here in the past, I know that this new system is good for crafters. The items are always consumed irrelevant of the quality of the Augment, and unlike the new Fey weapon Augments you only get one chance. It basically makes items that once were rather saturated on the AH into consumables like food. This is especially true of items that have good NQs and the Augments make it possible to surpass the HQ. So crafters get a more stable source of income while I either get to risk some high value item or just upgrade some cheap stuff.

Do you like gambling with your gear? Or are you more of the conservative type? Leave a comment and tell us what you think!