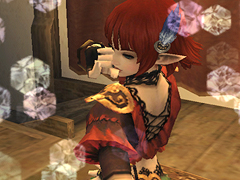 Morning in Vana'diel is your daily dose of FFXI and all things Vana'diel. Give us your thoughts on the interesting topics of the day! This morning we consider all those quests you need to get done before the next update.

Yesterday, SE announced that the next update is coming in late July, and from the first teaser picture that they included it's pretty obvious that more missions are on their way. The storyline appears to be moving to the Northlands, maybe even following Zeid and Volker or the Hydracorps as they prepare to assault Castle Zvahl and the Shadow Lord. Either way, we will be moving onto some cool new missions in the next update, and knowing SE the farther into the storyline of an expansion you go the better the cutscenes get.

This may sound great, but it isn't such a good thing for me because I am pretty far behind on my quests even if my missions are relatively caught up (I still need to do the Battle for Jeuno which I heard has some pretty cool cutscenes after the BC). I really should do the quests because the story for them is just as strong as it is for the main storyline of the expansion. I am lazy, though, and I need a lot of merits (got two more last night, woot), add to that the constant events and the general malaise of summertime, the required runabout to get the quests done for crappy places like Windurst just is a bit too much for me right now. What about for you? Do you love the quest and mission formula for the Wing's storyline? Do you think it's too much or too little? Are you the kind of person that hates missions and just spams Enter through them all? Or are you loving every minute of it? Leave a comment and tell us what you think!