It is like the slow creep of some kind of Lovecraftian horror. First, is the inexplicable fear, coming on more like a temperature change, unnoticed at first, but slowly building until you are sweating from every pore. Then comes the dread, the intimate knowledge of the approach of the end, even though the source is still unseen, unheard, unknown. Wishing for the end only slows it's approach, almost as if it can sense that now you only want the fear to end. Does it feed on your fear? Is it fattening you up for the slaughter? Thoughts of torture and torment would be comfort, because those would be real and substantial, but the slow creep has no reality and yet it consumes all reality. Sanity is something that existed in a past that is barely a memory as every thought, every moment, even every fiber of your existence begins to fray. And then the moment happens, sight overwhelmed, senses flash to life to consume everything that you wish they would deny. The moment of the horrors unveiling was supposed to be a moment of acceptance, but your mind reals in disbelief as the fear and dread were nothing more than a pinprick compared to the pain of the thought of something that should not exist. Your mind breaks, unable to cope, and yet, the pain does not end, it does not ebb, it has no zenith, you are embraced passionately by sheer absolute and infinite horror...

:)

My WHM hit 72 last night. Hehehe. Lovecraft ain't got nothing on the horror of me finally getting my WHM to 75. And I am loving it. I was finally in a Greater Colibri party last night, and I got 2 levels. But my gear was starting to fall behind, so afterward I went and got pretty much everything left that I wanted to get for end-game events. Well, at least my casting gear, because I still need to look into my hMP gear, and my Divine/Sleeping set up. For my casting gear, the only things left that I really am interested in purchasing are a Beak Necklace +1 and something for the ranged slot. When I hit 75 I will be able to use my Walahra Turban and Loquacious Earring and at that point I will be pretty well set, for curing. I could get a Healing Staff for sure, but with my finances there really isn't much justification for getting one over my simple Light Staff.

Well, since I haven't had a real update in a while, lets go over some nice things that have happened recently and I think this is in chronological order but I might be mixing things up. First, I got a Justice Torque finally! I think we are about 2 for 10 on this torque, but at least to decrease the pain of the extremely low drop rate we usually just spawn them three at a time. It's more efficient too, but you notice it more when you do three of them at once and get 1 torque then if you spread it out and do them over time. I guess it just feels a little less depressing. LOL
That rounds out my Great Katana skill gear, and I feel really good about my SAM now. A Novio for Elfie is next, as we finally got a full drop set from Love, and I think that puts us at two Novia, one Novio, and three Love Torques. Elfie's BLM is looking even more bad ass now, and man was he pleased to finally get that!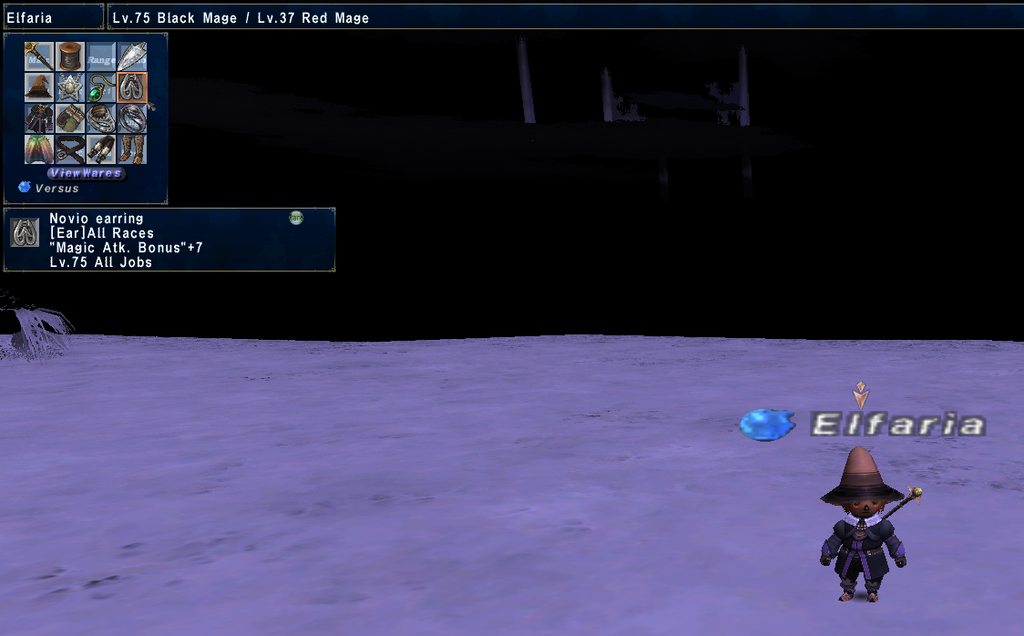 I might have mentioned that Elf already got the earring but I don't think I put the picture in. Then last Tuesday we had a great day! Einherjar was a win, and we got an N. Head from the chest!
Congrats to Akanea on N. Head. Then on a SSR run, Omoi got Ares 35 Legs!

It was just a normal run, and when I looked down neither she nor I thought anything about it at first, because nothing ever drops from Gyroscopic Gears. That amazingly enough puts Omoi at 14/15 Ares pieces, and she just needs the head from the Big Bhoot in Arrapago. She might have to wait a little bit for it though because we are going to be in SSR for a while to help clear out some more of the items there. We really need to get some more Ares's drops.

And to conclude in cuteness, here are Pot and Elfie at the last Ultima we did, looking super awesome and bad ass as usual! :)