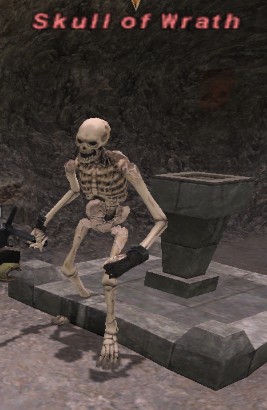 The recent trend on all of the big FFXI forums has been to whine about anything that SE does. Emergency maintenance? Whine! Mistaken gardening RMT bans? Whine! Credit card verification? Whine! Some of it is almost legitimate, but for the most part this whining is some of the most paranoid and delusional crap I have ever heard.

You might have noticed that lately I have voiced some concerns over [i]the game[/i] that we play. I want more of everything, and I want more development time spent on new things. I want a real expansion, and not these mini-expansions. I want new gear models, I want more merits, I want more gil, I want more mobs, zones and rewards. I want a lot of things.

Am I a hypocrite? No, because there is a very large difference in wanting more out of the game that we play and finding evil in every one of SE's action. I am not paranoid about my demands from the game. I think everyone wants things similar to what I want. No one is ever going to say they don't want more things in game. But I stop at the waters edge. I do not delve into the paranoid machinations of many of the commentators and posters in FFXI world.

I have gone over my feelings about emergency maintenances. FFXI players are not unique in this regard. Every game will always have their complainers anytime there is any maintenance at all, no matter how short or how important. These people are so self-absorbed that they can not even think for a moment outside of themselves to consider the reason that these maintenances are important for the game and even themselves. If coding a game was as easy as the people on forums think it was then those people would be coding games instead of posting on forums.

The mistaken gardening bans? Yes, there is definitely room for legitimate complaints here, especially for those that got hit and especially because SE never said anything about it at all. But it was a mistake and for the most part (except for Ryskar from what I can see) it has been reversed. Mistakes happen, I am not really as concerned that it happened but more that it wasn't acknowledged and openly fixed. But even in this case where there is definitely a place for legitimate complaint, some people take things way too far. Some assert that it was an attempt by SE to force people out of the game to get them to play FFXIV, or that SE doesn't want these people to play, or that it was part of a greater plan by SE to sabotage FFXI overall. Keep in mind these were likely the same people that used to say that SE worked with the RMT.

Finally, we have the credit card verification complaints. This is the one that really sends me on tilt not because it may be a hassle for a handful of people, but because this is one of those "people will complain about anything" issues. SE is trying to change its policy, likely to stop having to ban people that are doing charge backs on their CCs because of their own failures because that is how RMTs have been screwing SE over themselves. This is a good policy, and it is very likely that Blizzard, other MMO companies, and many online stores will adopt this policy. SE even has a way to resolve this issue for most people if they can't get verification. And this only applies to people that sign up with a new credit card or re-sign up for the game. The funniest thing about these people is there insistence that they refuse to give SE anymore money because SE isn't letting them give their money.

And there we have a perfect illustration of the irony of the situation.

Some people just need to take a deep breath, slide back from the monitor and get a freaking grip.